So, you have a dream company you want to work in? You are constantly looking for people to connect with from your dream company. But, I hear a lot of people complaining that "I don't have references to get a job there". Well, if it was 5 years ago, that would be a fate you had to accept. But, at the age of Social Media, there is no reason in admitting it. So, if you don't have any references or don't know who you can connect to, then it is your fault.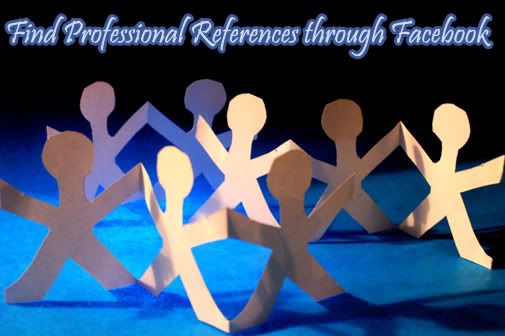 You really can use social media like Facebook find professionals references for:
Job or career,
Business opportunity,
Joint venture opportunity,
B2B Networking,
B2B Lead Sourcing, etc.
Last time, I gave the idea (that I am also going to give you) to someone, he found that his sister-in-law (bother's wife) had her brother-in-law (sister's husband) working in the company he was seeking references for.
You are probably wondering how this is possible. To tickle your brain, here are some ideas:
You probably saw the "Find Friends" feature where Facebook suggests you to add more people that might be your friend
On each un-connected Facebook user's profile you can see how much mutual friends you have
Each mutual friend has some kind of a relation with that specific user
You know that Facebook also suggest you to add colleagues working in same company
Now, what would happen if you could find people by company and also could see their mutual friends?
So, I think you got the idea.
Professional References from "Find Friends" with Other Tools Links
Getting your feet wet to find a professional reference is not quite easy. You have to apply certain tricks. You might have seen the find friend feature in Facebook. If not, then go to the URL mentioned in the image below: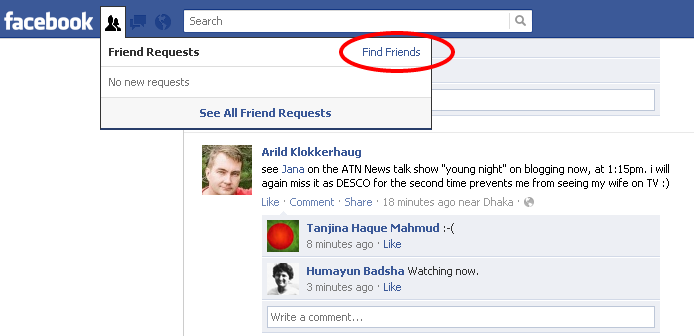 If you go to the page, you will see some list of other ways to find your some friend suggestions: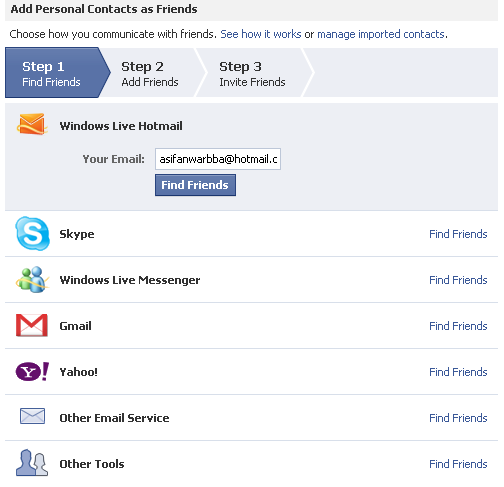 If you click Other Tools, you also can see the options to search people by the companies you work in: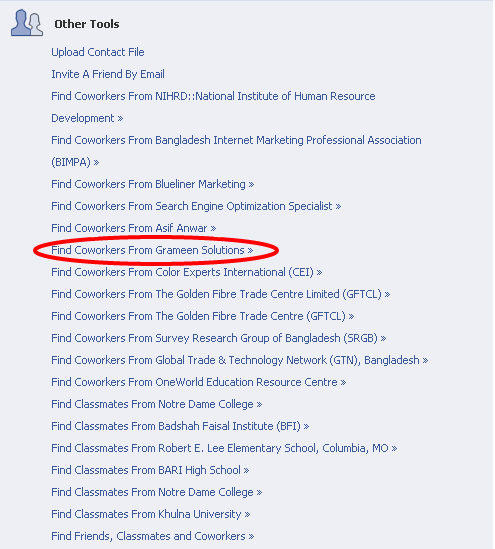 If you click on the link of the company, e.g. marked red in the picture (http://www.facebook.com/find-friends/browser/?type=work&id=102777693132451&ref=ff), notice that the URL has specific number (in bold). Now, if I take this number and use it after Facebook.com like this: http://www.facebook.com/102777693132451, it takes you to the Facebook Community or Fan Page of Grameen Solutions. But, the URL of the page looks like this https://www.facebook.com/pages/Grameen-Solutions/102777693132451. Now that you know the number trick, you can go on searching for people that are working in a specific company using http://www.facebook.com/find-friends/browser/?type=work&id=THE_PAGE_NUMBER.
This is not always so straight forward. First, you need to find all possible pages that are available in Facebook belonging to that company. The phenomenon of having many pages for the same company (in the image below) happen because, many people do not use the exact match spelling for the same company.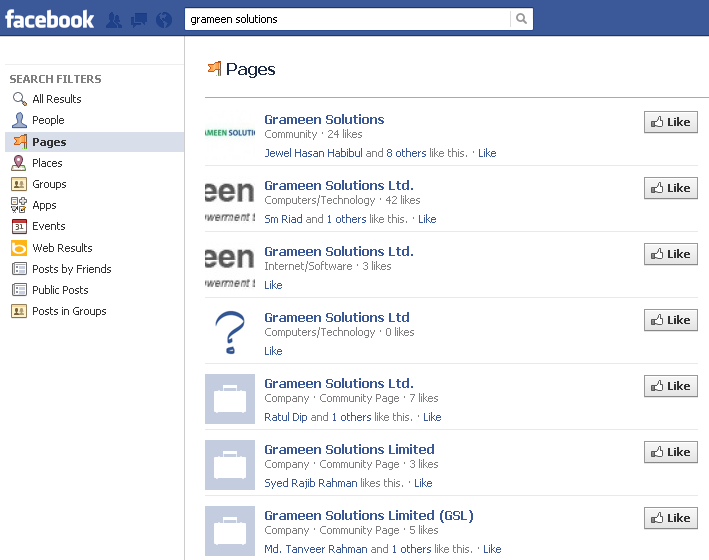 When you click the community pages (the page with briefcase icon), you will find the number of the page that you can use to search for professionals working in your desired company. But, some pages uses vanity URLs like: http://www.facebook.com/grameenphone. In that case, finding the number of the page becomes hard. But there is a trick. Go to the vanity URL page and right click and get the URL of any image on the page:
e.g. from http://www.facebook.com/grameenphone if you right click and copy the location of the image, you'll see that the location is https://fbcdn-profile-a.akamaihd.net/hprofile-ak-snc4/373042_135237519825044_132091699_n.jpg. The bold numbers you see in the middle of the image file name is the page number, which you can use to find other people from the same company. If you need to confirm if the number is real, then try to see if http://www.facebook.com/135237519825044 takes you to http://www.facebook.com/grameenphone.
Professional References from Find Friends Browser
Now, I might have made this a bit complicated, but the trick I mentioned above is the best way to find all possible people or connections that belong to your dream company.
However, there is also a shortcut way. Just go to http://www.facebook.com/find-friends/browser/ and in the employer section, search for the name of the company in all alternative spelling that people used. If the page is popular, after typing some text, Facebook will suggest you some name of the pages or companies. But, in cases where there are too less people in a company, you might not find that listed in the employer search suggestion. In that case, go back and use the previous trick again.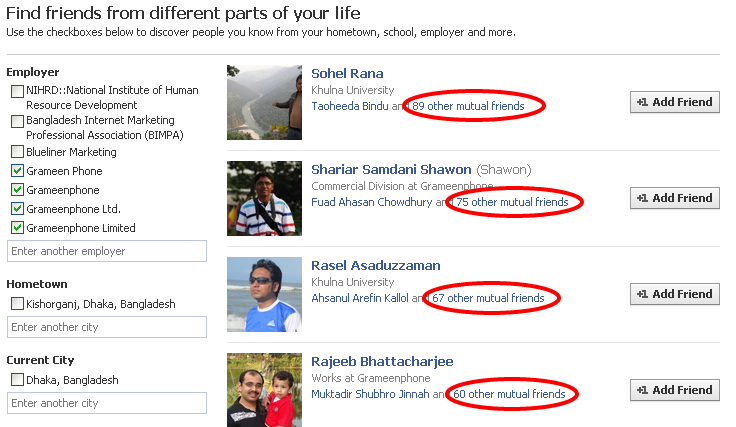 Now, you have the list that shows you people that are working in a specific company. Even though, you still have a problem. Because, they are not your friends in Facebook. But, the mutual friends suggest that they are friends of any one or more of your friends. So, use the mutual friends to learn more about the person working in the company and use them to get introduced. If you have a healthy number of Facebook friends, then I am sure that you will find at least one distant relative in a large company. It was actually not much possible even 5 years ago. But, in the new age of social media, use the strategy to benefit you, your career, and your business.
Professional References from Existing Friend List
Oh sorry, one thing missed. What if you already had friends from desired company and want to see which friends are from that company? Then the best way to do it is by going to your profile and then to Friends from Facebook. At the top, like the image below, you can search friend by Workplace. Select that and start typing the name of your desired company. You will find friends that are connected to the company. 
One last thing, when you see the list of friend suggestions or the list of friends from a specific company, don't guess that all of them are currently working there. Facebook tries to show all past and current workers in your suggestions. So, try to see their profile individually. Another thing is, you can get the maximum benefit from this trick, if you have a large number of friends in Facebook. So, be more open and helpful to others to make more friends in Facebook as well as in real life.
© Asif Anwar of SEOPPCSMM.COM - Source: Find Professional References through Facebook