If you are involved in Search Engine Optimization (SEO), either for your or clients' site(s), you know how important it is to get the number 1 ranking for the most important keywords. If the keyword is popular, then it is a dream come true.
Or is it? How can getting the #1 ranking for your keyword can be a nightmare? Well, the answer is: ROI (Return on Investment). Your ROI can be disturbed in many ways for having number 1 position.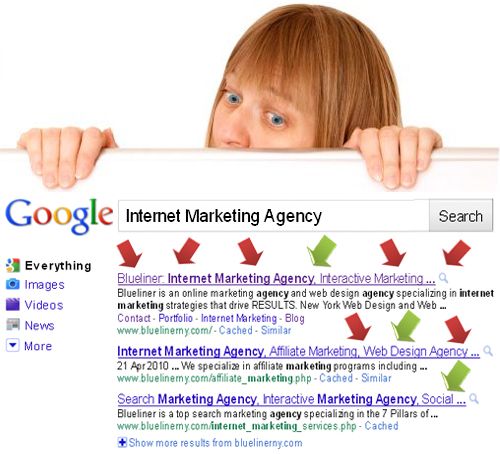 Why the #1 Position in Google and Other Search Engines Sucks
So, it's not the #1 ranking that you should rely most on. Even if you do, don't over-emphasize it, also don't feel sad that you don't have #1 position. You should have realistic SEO Mindset, depending on your financial and operational capabilities. 
We are mostly ROI driven and strive to achieve the best ranking to boost your ROI. Without a good ROI, the #1 ranking in search engines can disrupt your business operations, marketing, and branding. Here is how:
Searcher's Intent Does Not Match Your Commercial Goals
Even with sophisticated web analytics tools, it can be difficult to identify the search intent. i.e. you never can learn what was the intention of the searcher, when they made the search and landed on your site. Most of the searchers don't merely come to your site to buy your product or service. Bringing visitors is good for your site. But, bringing visitors with varied intentions and expectations may not always be good or turn into sales. These varied intentions can be like:
There are many visitors who constantly look for information for academic purposes or research
Some think you are a potential client (usually spammers)
Some are competitors, spying on your promotional activities
Some that have already been sold and looking into what others are offering
Some are future prospects that are yet to fall into the final stages of your sales funnel, 
Some are not that serious and just trespassing 
Few are your present buyers, who still are interacting with your site. 
Most visitors will have different motives to visit your site, but it is obvious that it will not always match your commercial goals. Moreover, if you always emphasize your commercial goal, then you might not be successful both commercially and SEO-wise.
Increased Cost for Sales, Support, and Operation
If you rank #1 for a popular keyword, you will get substantial amount of traffic to your site. However, all the serious and non-serious buyers will come knocking on your door for queries. The bad thing is, you may think all of them are leads, while most are queries. To keep up with the pace, you need to put more pressure on sales and support team or increase the size of the team. If you are offering free trial or samples of your product or service, then the increased number of non-serious visitors will seriously increase your operation costs, including sales and marketing costs.
Again, in any industry, contacting or comparing more than 2 suppliers is usual behavior of all the customers. And for B2B-customers or customers-of-costly-products, the number can be more. So, just being the first company they find is not enough. So, by being on #2 to #5, any site can do equal business as you, if not, better than you.
Low ROI and Competitive Disturbance
As mix of serious and non-serious visitors come to your site, it is obvious that the number of sales against each query or lead will be low, hence a low ROI. As the cost of goods sold increases, your ROI will also decrease automatically. Because, when the cost increases, you are increasing your investment, while the return is actually the same.
The intention of the searcher to go beyond the #1 position is directly related to his/her seriousness to purchase. So, the ROI of #2 and #3 position will be high, if  they make the same number of sales. If you have a good sales approach and give better value than your competitors, then being the #5 or even the #10 company is not a huge problem.
So, what happens is, you spend your budget to entertain the non-serious lead generators, while the #2 and #3 position competitors get to eat the same fruit with less effort. Moreover, if your competitors' sales approach more efficient or has better product, then they will just be piggybacking on your position.
Actually, the #1 position will be kinda like a philanthropic position to educate customers on what to expect. As the searchers go beyond the #3 position, the level of seriousness generally increases. Traffic on the other hand decreases. But, with the amount of sales that the site generates, it is able to generate a higher ROI.
The clear winner from a serious buyer will be the company/site that has good sales approach, quality product/service, and offers good value to the customer. i.e. if a searcher knocks almost all the companies/sites in the top 10 list, then there is no competitive advantage of being the #1 ranking site.
Decreased Reputation at Increased Level
So, you are thinking about decreasing cost and increasing ROI, by not being philanthropic and being selective on who you reply to and not? Then, be ready to face the invisible wrath. When you don't reply a customer, it has some ripple affect. Some of the affects are:
You throw away the customer and give him/her away to your competitors by your own hand
You create a perception about yourself and your brand, that you are not serious about sales
The negative perception of un-attended customers spreads to other potential customers and starts to ruin your brand and reputation
If the traffic is high, then this will happen quite frequently and you may one day find someone blogging negatively about your site.
No Advantage for being the First Shop in a Mall
Think of a real life example of a shopping mall where you can buy similar products. You try to see all the offers, products, features, and prices at all possible outlets. You make the final decision based on the outlet that offers you the best value. However, there is really no advantage to be the first outlet seen.
The Disclaimer
The #1 position for your main keyword is highly desirable, if you can bear the expense. Moreover, it also helps to gain strong reputation. So, I am not discouraging your SEO effort to get #1 position in search engine. Again, if you don't have top 10 rankings for your important keywords, then you have no chance in getting leads.
I am again not encouraging you to obtain ranks beyond the top 10 positions. It is really hard to find so serious customers that go beyond top 10 results. Only people that are data-mining typically do that, who may never be your customer.
However, if you are a mom & pop company and striving to make maximum profit with less cost, then you can use this mindset to stay happy with little. But, if you are a big company, then go for the #1 ranking, which you truly deserve.
© Asif Anwar of SEOPPCSMM.COM - Source: Why the #1 Position in Google and Other Search Engines Sucks