When you see abnormally high direct traffic in Google Analytics or other web analytics tools, then there is not much you can do, since most direct traffic is only shown as a number of views. With search engine and referral traffic, it is pretty easy to find out what happened. But it becomes quite hard to understand what really happened behind direct traffic.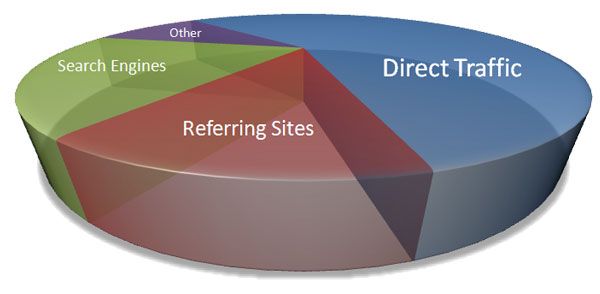 Referred visitors come through search engines and referring sites. And Web Analytics Solutions like: Statcounter, Google Analytics, Awstat, etc. can provide you good insights in understanding the behavior of your visitors as well as the performance of your online marketing campaigns. However, direct visitors may not be a strange phenomenon. It can also be the karma of your direct marketing effort, online branding, email marketing, and it may also result from returning visitors to your site. If you see any abnormal direct traffic then you should understand that the direct traffic is coming as a result of:
Email Links,
Bookmarks,
Offline pages loading web analytics script or
People typing your site's address in the browser, etc.
Direct Traffic from Email Links
Email clients like: Outlook, Outlook Express, Eudora, Thunderbird, and other POP or IMAP Mail Client Softwares generate Direct Traffic. Some assumptions of abnormal direct traffic from emails can be:
The direct traffic from emails can be the result of your specific marketing campaign. Usually during various occasions, like: Christmas, New Year, etc, many businesses air email marketing campaigns. During the campaign almost all corporations send greetings to their stakeholders. These include customers, suppliers, well wishers, etc. Sometimes it's not about a single campaign. Your employees can run multiple spontaneous campaigns across channels. In those cases, the visitors' click on the links located in the email can result in direct traffic to your site.
If an affiliate marketer is campaigning for you, then that is a good thing. However, you should allocate different and distinguishing mechanisms that can tell you an affiliate marketer is responsible for that. Otherwise, you may be depriving the affiliate marketer as well.
However, if you or your affiliate marketers are not responsible for the emailing campaign, then it may not be a good sign. Because, people may be saying bad things about your site or business and you may not know it. So it would be wise to investigate if someone is doing that. Google Alerts on your business name can help a lot to understand what is happening.
Sometimes you might have ads, highlights or mentions published in other corporate newsletters. When they are circulated, please remember that they may not be read at the specific date of circulation. So, throughout the week, you might have visitors coming in at their convenient time.
This direct traffic phenomenon can also result from sudden increase in sales and customer support activities. When you have a large pool of sales and customer support executives for your business, they send out many emails throughout the day. And from these sales & support emails, people may also end up on your site. This happens when the sales and customer support people send deeper links.
Direct Traffic from Bookmarks
Bookmarks are the simplest type of reference to your site. Just to define it: Bookmarks are stored links in your computer, either in internet browser or files that automatically generate URL for your browser. So, any content that automatically generates URL for your browser will be a bookmark. Most of the Web Analytics tools can't differentiate the source of the clicks from stored links. However, they should be more valuable to you, since they are mostly returning visitors. The links from bookmarks mean your marketing campaign efforts are maturing into sales. Bookmark visitors can come through the following types of bookmarks:
Lot of people bookmark your site in their browser when they find a site interesting or they think that it might be useful in future. They store it in their browser, which end up as link files in "Favorites" folder. It also comes from custom links pasted in any toolbar, like the bookmark panel in Mozilla Firefox. These bookmarks are stored as very light weight link files.
The link to your site from a stored webpage can also be treated as Bookmark. People may also come from pages saved in their computer that contains a link to your site. In that case, it might be a referred visitor. However, some computer blocks the reference. In that case, it will be direct traffic.
Bookmark links may also reside in other types of files than HTML webpages. e.g. PDF, DOC/DOCX, XLS/XLSX, etc. These files provide links for your visitor to open the internet browser and go to your site. So visitors can end up in your site by clicking links in those files as well. And most of the Web Analytics systems can't differentiate this type of link and treat it as a bookmark.
Bookmarks can also come from links in softwares. e.g. When you visit the About Window from the "Help" menu of any software, you can find link to their website. Again, many types of software also generate automated URL for the browser to visit. e.g. Customer Feedback form when you uninstall a software.
Direct Traffic from Offline Pages
Most Web Analytics Systems try to load a remote visible or invisible image into your visitors' computer through the browser. These remote visible or invisible images are customized image that work as your identity. Web Analytics Systems provide some sort of codes (usually as Java Scripts) that generate the command to load these images. It may not always be the case that the codes will come from webpages located your servers aka your website. The visitors can also come from other sources such as stored webpages of your site in their hard disks. Often if the Web Analytics code is in a blank page, it'll still show the visitor. However, now most Web Analytics Systems show them as referred visitors by showing the exact location from the computer (e.g. C:\Documents%20and%20Settings\You\My%20Documents\My%20Site\index.htm). Often many computer blocks this reference system for external servers. It is then; the visitors are treated as direct visitors. In case, if the Web Analytics Systems can't recognize or block the reference, the offline stored pages direct visitors can come through various ways, like:
Someone extensively worked on your site for redesigning. Usually, when a webmaster loads the page in FrontPage, Dreamweaver, or other Web Design Software, the Java Script of Google Analytics is also loaded (if Java scripts are NOT turned off). It's not unusual if you see that the hits are coming from various IPs. Webmasters using Proxy Servers can make their IP change from time to time. Again, the same webmaster may be working in different computers (perhaps in his laptop). Or people can be working as a team for various functions for your site. This action can generate abnormally huge traffic, since the site development work is done. The best way is to block this is by using visitor filters using their specific IP address.
Imagine the same case, but this time the webmaster is designing the new site for your competitor by stealing your content or theme. So, each time they are modifying your site, we can get direct traffic. And if you have not been working for your site, then there is very much possibility that someone is piggybacking on your content or theme.
However, looking at things in the eye of a pessimist is not always necessary. Someone may have found your contents very interesting and saved your page in their computer. This is good news if the visitor saves your site for future reference to generate sales for you.
Many businesses that does data-mining for other businesses may want to save your page for business purpose.
Again some student or researcher may also like your content so much that they would want to use them in offline or online versions. It's always good to have contents for researchers and student to get links from .edu or .org sites.
Direct Traffic from Typing in Address Bar
Direct visitors also come from deliberate typing in the address bar of the Internet Browser. If they are doing that, then you have established your site as a brand in the mind of the visitors or your offline marketing campaign is a hit. A lot of people don't come to Yahoo, Google or Bing through bookmarks or any reference. They really type the site name in the browser and press Enter or Ctrl+Enter. The search engine and referral traffic for these giant sites are rare. Every site actually strives to achieve this. Again, if your are running an offline marketing campaign, then the best way to go to your site after seeing an ad, is by typing the URL in the browser. There are thousands of reasons for this type of visitor typing URL in browser. However, here are some of them:
Make sure if your business or site has been highlighted in any newspaper, magazine or any other popular print media. So the news readers were typing the web address and making direct hits. Try to know if any article on your site was published in any daily newspaper. But that generates traffic for one day and consequent days have a bit low level of traffic. If you have traffic coming in throughout the week, then it might be published in a weekly magazine. So based on your traffic pattern, you can understand what happened.
You may have also paid for advertisement in local/national dailies or magazines. However, you might have forgotten the date they will be publishing your ad. Another way to say it is: you may have paid some parties earlier and forgot when they will publish it.
Viral Marketing can also influence typing of URL. Viral Marketing is a type of contagious marketing technique that spreads the news, contents, video, audio, etc. When you find a video that you liked, you would want to forward it to your friends and they forward it to their network. This goes on and creates a virally infected network that knows the news. If the spread information is in video, audio or any other format from where you can't extract text or automatically generate URL, then there is no other way than just typing the URL.
Like Viral Marketing, "Word of Mouth" through traditional and social media also can influence the spread. The only media that "Word of Mouth" uses is the mouth or words of people, their comments, findings, excitement, etc.
The possibilities of Direct Visitors are endless. But, Web Analytics tools provide you insight to only a number, not the overall insight on what actually happened. So, it is up to you to investigate what has happened. The abnormal increase in traffic may not always be good news. So, it is always wise to watch out.
© Asif Anwar of SEOPPCSMM.COM - Source: Analysis of Direct Traffic in Google Analytics - Understanding Direct Traffic in Web Analytics